This user guide complements the Help section available in Online services for agents (the system).
Functions available to you in Online services for agents are dependent on:
if you are a tax or BAS agent
your Access Manager permissions
if a feature is relevant to your client. For example, if your client does not have an obligation to report Single Touch Payroll this feature will not be viewable.
Your system settings need to meet our Minimum system requirements. To quickly check your settings use the Online services system requirement check.
The system will time out after 20 minutes of inactivity.
Menu options in this guide reflect the system – they will either be practice or client summary. You will need to navigate between the agent homepage and the client depending on the action you are performing.
Find out about:
Help
Prompts and help are available throughout the system. Detailed help, relevant to the action you are performing, is available by selecting the Help button.
Help option with Online services for agents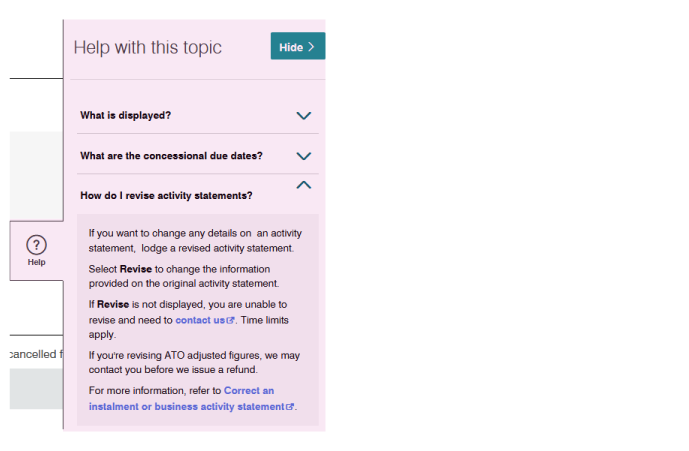 Multiple windows and tabs
You can open multiple tabs or windows in the system so as to action more than one client or report at a time.
To open another window or tab right click on a menu item and select 'Open link in a new window' or 'Open link in a new tab'.
Options to open in new window or tab

See also:
Agent homepage
The agent homepage is the first screen displayed when you log in. This page displays information relevant to your login.
You can customise the agent homepage to add key features and quick links to the functions that best suit you.
The agent homepage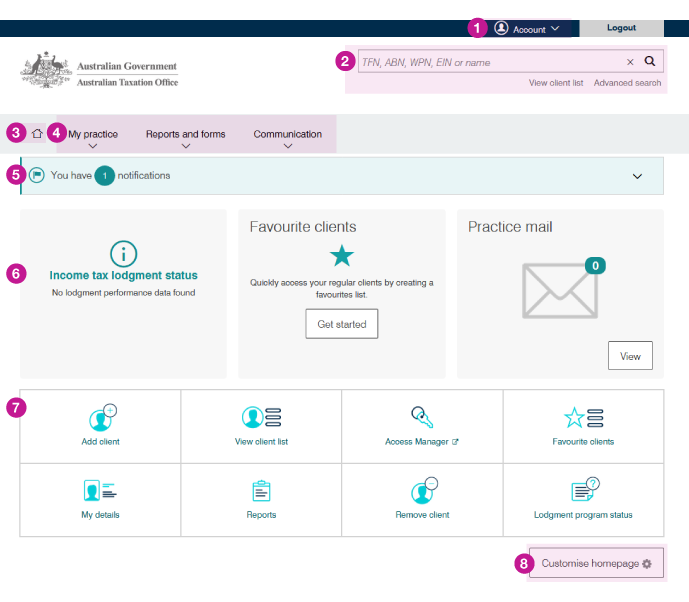 Search, View client list and Advanced search
Home
Practice menu options
Account – login
If your practice has more than one Registered agent number (RAN), you can use the Account menu to switch from one RAN to another. You will only see the RANs that you have permissions for in Access Manager.
Up to five RANs display at any time. If more are available, select View more then at RAN select choose the relevant RAN.
The RAN you have logged in with will be displayed in bold.
Select a client
To select a client you can use the search field on the agent homepage or the Advanced search link. If you have customised your homepage to include the Favourite clients or Client list quick links, use these options to select a client.
Notifications
The notification section on the homepage is used by us to alert you to Actions required or Information.
Notifications are displayed for each AUSkey holder and will appear for:
All agents when the message affects everyone, such as planned system maintenance.
Specific groups when the message is only relevant to agents who may perform a particular role, for example if you have clients who have not lodged their 2014 income tax returns.
There are a maximum of six notifications displayed at any one time. To view a notification select the drop down to view all notifications.
You can dismiss Information notifications at any time by selecting X.
However you can't dismiss an Action required notification until you have actioned it. Select Action now and you will be taken to the relevant function to complete the action.
Note: Only your notifications will be dismissed. They will still be viewable to others in your practice with the same notification.
Customise the homepage
You can choose what information you see on the homepage. Customising your homepage lets you quickly access the functions most relevant to you.
To change the features or quick links:
select the Customise homepage button at the bottom of the homepage
select or deselect the Features and Quick links check box to choose what you want displayed. You can select three Features and eight Quick links

There are only three features currently available to choose from, Practice mail, Favourite clients and Lodgment program status. You can add Favourite clients more than once. For BAS agents the Lodgment program status is not available

select Save.
See the full article at the ATO website